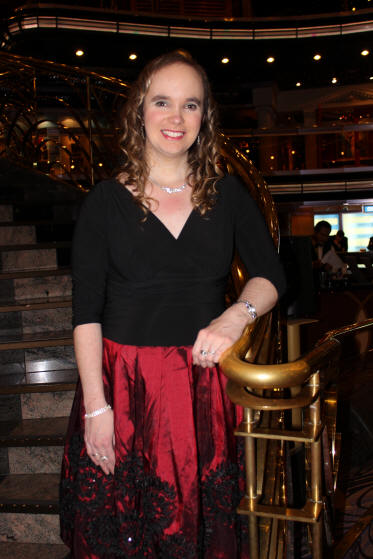 At the young age of 40 years old, Jennifer Campbell has a heart for ministering to others. Throughout her life, she has walked through many valleys and climbed many mountains. Yet, through every moment of sorrow and every time of joy, God has stood beside her every step of the way. It is Jennifer's prayer that God will use her testimony to reveal to others that there is hope. Even in the sunset, there's sunshine awaiting you.

On January 2, 1982, Jennifer was born premature and lifeless. Nevertheless, her parents did not lose hope. They did not pray a complicated prayer with formal language. Their prayer was simple. They humbly prayed, "Jesus help." After the doctors had given up all hope for Jennifer's survival and began focusing their attention on her mom, she began to cough like a little kitten. Jennifer was alive.

Although Jennifer experienced many difficulties in the weeks that followed, God performed a miracle. The doctors said Jennifer would likely have cognitive difficulties, even if she survived. God had a different plan. Jennifer graduated from the University of Florida with a Bachelor of Arts degree in English, and then she earned a 4.0 GPA when completing her Master of Science degree in English Education through Nova Southeastern University. Jennifer is living proof that when God performs a miracle, He does it right!

Jennifer knows that God has a dream for her life. Whether she is on stage singing solo, singing with her dad as a duet, speaking at churches and other locations around the globe, or serving in her roles as an K-5 elementary teacher at Suwannee Virtual School and an adjunct English professor for Toccoa Falls College, she knows God will always guide her footsteps in everything she does. She is grateful for the talents God has given her and she strives to use them for His glory every single day. God has blessed her with the ability to play the piano and drums. She has served as a Group Leader for Women of Faith as well. Most recently, Jennifer produced her first music video featuring an original song titled, "Follow Hope." You can watch this video at www.cwrmusic.org.

Jennifer is a prolific writer, penning songs, writing an inspirational blog, and serving as a Feature Writer for SGN Scoops Digital Magazine, the first all digital Southern Gospel music magazine. She has written for SGN Scoops for over 20 years, including features on The Brooklyn Tabernacle Choir, Bill Gaither, Janet Paschal, Goodman Revival, Karen Peck and New River, The Whisnants, Canton Junction, The Hoppers, and many others. She was also honored to be able to write special tributes to Lari Goss and LaBreeska Hemphill.

Jennifer recently published her second book, Worshiping God in Spirit and in Truth. You can read a complimentary chapter of this book at www.jennifercampbell.net/worship. Her first book, an inspirational autobiography, is titled, When You're in the Sunset, There's Sunshine Awaiting You, which she hopes will inspire others through its message of hope. You can read a complimentary chapter by clicking this link, and you can also purchase a copy on Amazon. Already working on her third book, a children's book titled, Love Beyond Imagination, it is her prayer that God will give her the opportunity to publish many more books in His timing.

In addition, she has a food and travel blog at www.jennifersjourneys.net, where she featured William Jack Degel of Uncle Jack's Steakhouse and the Food Network show Restaurant Stakeout. Jennifer would love to have her own food and travel show one day.

Jennifer is also a member of the Florida Worship Choir and Orchestra. Her first concert with them was for the "Almighty God" live DVD recording at First Baptist Church in Jacksonville, Fl. She also had the opportunity to participate in the 2014 NYC Worship Project. Through this mission to New York City, Jennifer was honored to sing at the Naumberg Bandshell in Central Park and at Christian Bible Church in Yonkers, NY. She also had the privilege of singing on stage at Carnegie Hall and at Brooklyn Tabernacle. She served as a member of the dance team for a flash mob in Times Square, where the Florida Worship Choir and Orchestra sang to an estimated 100,000 people. Jennifer says, "The entire mission trip was ordained by God. He ordered our steps. The amazing reality is that we went to minister to others. In return, we were blessed abundantly. Lives were changed through the NYC Worship Project, including our own. I pray that God gives me the opportunity to minister even more, as I know in my heart this is what I am called to do."

Some of her greatest joys are helping others, spending time with her family, and seeing the world. Jennifer is an avid traveler. She and her dad enjoy every opportunity they have to sail on a cruise ship, fly on a plane, or ride along the rails. Still, the one thing she enjoys most is giving to others. Jennifer and her family have taken hundreds of pounds of supplies to an orphanage in Roatan, Honduras. Now she is praying that God would open the door for her to go on another missions trip in accordance to His perfect will. Jennifer says there is nothing like exploring the beauty of God's creation all around the world, and at the same time, bringing joy to the faces of little children. All of her life, Jennifer has strived to bring joy to others, even amid the times when her own joy has momentarily faded.

When Jennifer was just a little girl, her two little brothers were born prematurely and passed away as infants. At a very young age, she had witnessed the death of more close friends and loved ones than most people she knew had even been to funerals. Brothers, grandfathers, a grandmother, aunts, uncles, and others…. But, even in the midst of the loss they experienced, she and her parents remained a close-knit Christian family. They had faith that God would always keep them together, no matter what storms brewed overhead. On August 2, 2008, the darkest storm of Jennifer's life came upon her as suddenly as a tornado can flatten an entire town.

Jennifer and her parents were vacationing in the Great Smoky Mountains in Western North Carolina. Life seemed perfect. Then, their life changed forever. One evening, while they were sitting in the living room watching an episode of The Waltons, Jennifer's mom suffered a heart attack and passed away. There was no warning, there were no goodbyes, and there was nothing she or her Dad could do to silence the violent storm. Life just changed.

Jennifer says, "I still don't have all of the answers. I cannot tell you why my Dad and I are not living in this house as a family of five, my Mom and younger brothers still with us. What I do know is that God has a master plan for our lives. He walks with me in the sunshine and in the sunset. He holds my hand, whether I am climbing mountains, traversing a rocky terrain, or wading through a raging river. Psalm 23:4 (NIV) says, 'Even though I walk through the darkest valley, I will fear no evil, for you are with me; your rod and your staff, they comfort me.' I will not be afraid of what tomorrow may bring because I know that God will be with me in all of my tomorrows. He will never fail us."

Through every sunset and every sunrise, Jennifer will tell you that God has always been faithful. Even in the sunset, God will bring forth the sunshine once again. When you reach the lowest, darkest valley, God will bring you to your knees. When you cannot go on one more mile, God will carry you through each and every storm. If you find yourself stuck in the sunset, rest assured that there's sunshine awaiting you.